---
5 Items
ID: STS01

ORDER NOW

Price: $95.00

Available in Seven Sizes

ID: STS02

ORDER NOW

Price: $95.00

Available in Seven Sizes

ID: STS03

ORDER NOW

Price: $95.00

Available in Seven Sizes

ID: STS05

ORDER NOW

Price: $145.00

Available in Five Sizes

ID: STS04

ORDER NOW

Price: $145.00

Available in Five Sizes
5 Items
The bracelets in the field are braided by the soldiers with parachute cord. They are known as survival bracelets, because they can be unraveled and the paracord can be used for many purposes in a pinch. They are also exchanged among soldiers as friendship bracelets. Often, a uniform button is sewn on and used as the clasp.

Symbolism
The button clasp symbolizes the uniform. The clasped bracelet symbolizes the bond among the soldiers that can never be broken. To some, each knot in the bracelet symbolizes a fallen hero.

Designer Version
The designer version has a sterling silver clasp shaped like a uniform button and is extremely tightly braided. Sterling silver and gold plated sterling silver heart clasps with a small diamond are also available. Special Edition versions with 14k gold clasps are available on request.

The From Soldier to Soldier bracelets are a stylish fashion statement with a conscience and a powerful fund-raiser in honor of our veterans. The bracelets are being produced in the USA.

Original idea: Stefan Hylleborg, a veteran of the war in Afghanistan.
Designer: Claus Scheelke.
Featured Custom Jewelry Items
| | | | |
| --- | --- | --- | --- |
| Price: $59.95 - $239.95 | Price: $59.95 - $449.95 | Price: $83.95 - $265.95 | Price: $54.95 |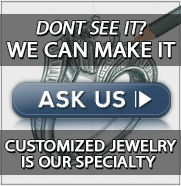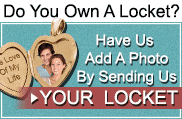 Tools & Info
"I needed a locket at the last minute for a birthday present and found Pictures on Gold online. I was a little skeptical about ordering online and having photos engraved but when I received my order, I was beyond impressed and it was delivered really fast too. I didn't expect to receive it so soon. I am more than pleased with my order and would definitely order from here again or refer to someone else. Thank You!!" -- Jeanelle W.

Shopping Service

Can't find exactly what you want? PicturesOnGold.com's Shopping Consultants are here to help.
call (877) 703-1143 or
send us a request by email