How To Order Photo Pendant
1. Choosing a Item to have Photo Lasered
Click on Photo Jewelry on the left side of the page and then go through a variety of different pendant styles. Take your time and go through each individual one and select the one you would like to purchase
2. Choosing a Photograph
PicturesOnGold.com can take any size photograph (Black and White or Color) and laser it onto any of the items on our website. Don't be concerned about cropping the image, leave that to us. You'll have a "special instructions" section dedicated to your order where you can give us all of your requests of cropping. Here are some of the most common requests made by customers:
Bringing two people closer together on my item: No problem for us.
Bringing two different photos together: No problem, but there is an additional charge (see details on product page)
Removing Backgrounds: ( We remove backgrounds on all photographs unless otherwise requested)
Touching up Photos: If you have a crack or mark on your photo, don't be shy to ask us to remove it even though we'll probably take care of it for you anyway. (No charge)
Removing a person or object: We can remove any person, place, or thing. We'll crop to the head, neck, and shoulders of anyone persons you want in the photo and remove the rest. Again, just let us know in special instructions. (No charge)
Cropping to just the head and shoulders: We normally crop to the head, neck, and shoulders unless otherwise requested.
3. Sending your photograph
The most common way of sending your photograph to us nowadays is digitally, but some people haven't mastered this yet. We understand, so we give you 3 options of sending us your photo:
Uploading with the order: (Digital files only) You select this option then hit the browse button and find your file on your computer to send to us
E-mailing the file: (Digital files only) Select this option if you would like to e-mail your photo at a later time. You can e-mail files to orders@picturesongold.com and include the order number you're given upon completion of the order process in the email (preferably the subject line). You'll be give all of these instructions as well when you click on this option
Mailing us your photograph: ( Paper Pictures) If you don't have your photo digitally you can send us your photo in the mail with the Post Office, UPS, FEDEX, DHL or any other carrier you choose. Click on the mail us your photos button and after your order is complete you'd ship us your photos along with the order number give to you upon completion of the order to:
PicturesOnGold.com
1140 South Railroad Ave.
Staten Island, NY 10306
Att: Order Number: XXXXXXX

This is all the information we would need from you because we store all your information in sync with your order number.
If you'd like two images merged together this is your chance to let us know. When asked how many pictures are you sending select one if it's a single image, and select two if you'd like us to bring two photos together onto one pendant.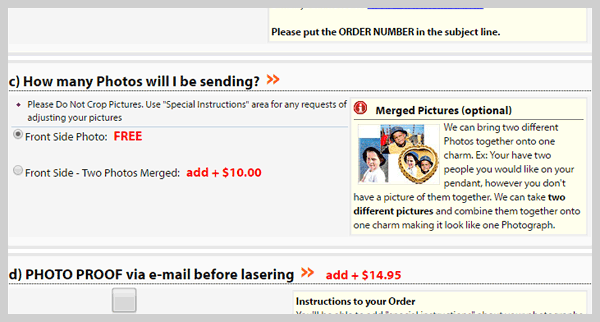 4. Photo Jewelry Added options
Message Engraved on the back of the pendant: (Additional charge, see details on product page) If you'd like to have a personalized message engraved on the back of the pendant you can select this option. You can select to have "Block" or "Script". If you'd like to engrave a large amount of characters more then 4 lines we suggest going with the "Block" as it is a little easier to read. Just enter your message in and be sure to check your spelling.