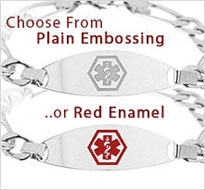 Need Help?
Have a question or need help? Talk to one of our live agents now.
It is especially important for young children with medical conditions or allergies to have kids medical id jewelry such as medical id bracelets in case of emergencies. This section of kids medical id bracelets is dedicated to childrens id bracelets in smaller sizes. Young children may not be able to verbally tell what they are allergic to which increases the need for having a kids medical id bracelet. Our childrens medical identification jewelry is available in a 14k gold and white gold id bracelets and silver id bracelet style. Often, one side of our kids medical id jewelry bears the medical cross symbol and the other side is engraved with allergies or conditions. We custom engrave medical alert id bracelets with information like name, health conditions and allergies. Start shopping for kids medical id bracelets below. We have a large selection of white gold id bracelets in the
childrens medical bracelet
section. You can also find sterling silver id bracelet styles. With many white gold id bracelets and silver id bracelet styles youre sure to find a look that is perfect for a child.