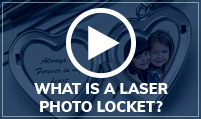 Need Help?
Have a question or need help? Talk to one of our live agents now.
Hebrew Themed Sterling Silver Lockets
A great bar mitzvah or Hanukah gift is this line of Hebrew sterling silver lockets. These sterling silver lockets have all the elegance and beauty of a precious metal but at a fraction of the cost of gold and platinum. A sterling silver locket is an ideal present for family and friends and is perfect for religious occasions or birthdays, holidays and anniversaries. A Hebrew sterling silver locket from us includes the option of custom engraving and image lasering. Simply choose the style and design of the Hebrew sterling silver locket you want, and then choose to have a custom message engraved in the locket or have a personal photo lasered into the silver locket. Our laser image technology permanently puts your picture in your sterling silver locket and it is guaranteed to be waterproof and scratch-resistant. Browse our selection of more than a dozen sterling silver lockets in Hebrew themes. Hebrew
sterling silver lockets
are available with Menorahs, The Star of David and other Hebrew symbols.