Need Help?
Have a question or need help? Talk to one of our live agents now.
Customers Reviews

A locket for my love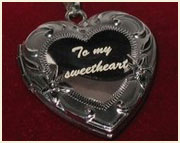 "You never buy me flowers!" Carolyn said a while ago.
I decided rather than flowers I would get her something that lasts longer. She likes lockets and has a few, so I decided to get her an engraved locket. Presented it to her just now and she was overjoyed and my brownie point ranking just went through the roof.
Got the locket from a company called Pictures on Gold, they do all manner of items including silver and gold lockets, photo jewelry, medical jewelry, bracelets and charms to name a few. I opted for a silver locket, I had it engraved on the front, the back and a color photo of myself laser engraved inside.
The website is easy to use and you are spoilt for choice, once ordered the locket arrived really fast and comes in a lovely presentation box with certificate of authenticity and a lifetime guarantee.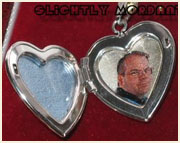 I am very pleased with the locket and the service the company offered. More importantly Carolyn loved the gift and agrees it was better than flowers, but shed still like flowers sometime!
I highly recommend the company and I think well both get the medical alert jewelry we should be wearing from there also.

---
Beautiful Locket
I used to have a locket and somewhere along the way I lost it so when I was given the chance to order one from picturesongold.com I jumped on it. I have been waiting for it to arrive, and was thrilled to see a package in my mailbox today when I got home from the pumpkin patch.
It came in a nice red gift box, so if this was a gift I could just wrap it up and be on my way. I am normally a gold lockets kinda gal, but chose a silver one this time. It is absolutely beautiful. I used a picture of my hubby, so I could have him close to my heart all day. The picture is lasered onto the locket which makes it waterproof. It is engraved on the back with My Love.
These would make awesome gifts. They have more than just lockets, they have charm bracelets, rings, pocket watches, childrens jewelry and so much more. I am very pleased with this company and will be doing business with them again.

---
What A Gift
http://vickieculver.blogspot.com/
While the opportunity arose for me to get a locket, Mom got one too.
She has 2 gold lockets, one is tiny & from when she was a little girl. I do not know if there is anything in it. My Granny gave it to her. The other one, Danny gave to her for Christmas one year. It has two pictures in it. One of Mom & the other of Danny.
She was really excited to get this new one. I think because she got to personalize it with her favorite scripture Isaiah 40:31. And also have a newer photo of her & Danny put in it.

---
Always In My Heart
Before Mother's Day the list of potential gifts I had given my husband included new perfume or a silver heart locket with a picture of him and our boys. He opted for the perfume (which I love), but you can imagine my excitement when I recently had the opportunity to order a laser engraved sterling silver picture locket from picturesongold.com. The ordering process was easy with clear instructions. It arrived over the weekend and it is beautiful.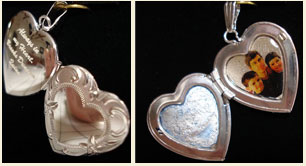 Inside is a picture of my husband and two sons that has been color laser engraved and enamel sealed. Unlike traditional lockets with paper pictures the laser engraved picture is permanent and waterproof, which is especially important when you live somewhere that gets as much rain as where I live. Everything eventually ends up wet if it is ever worn outside. On the back I had the words "Always in my heart" and the names of my husband and sons in script. I was worried that I was getting to many words engraved and it would be hard to read, but it came out clear with plenty of space. The front of the locket has a nice filigree design. it came is a pretty black box with a silver cleaning cloth. I have the perfect chain for it and I plan on wearing it all the time.

---

Shiny new locket
I got my shiny new locket in the mail this weekend. It is so shiny and new that you can see my reflection taking the picture in this shot! -lol- I love the engraving, I was just going to get an L engraved on it, but decided to go for the full triple initial monogram instead. Im really glad I did that. I think it turned out very nicely.
And what else would you find inside other than my four little cutie pies of course! It was a difficult decision on what picture to have engraved into the locket. Oh yes, that picture is laser engraved! That way when one of my kids tosses it into the fish bowl like they once did with my other locket I wont have to replace the dripping wet ink smeared photograph. Its in there forever and ever. I choose a picture of the boys at Disney (can you tell I like those vacation photos?) This is actually the same picture that I had enlarged of them with Eeyore, only the lovable donkey and the background have all been removed to give a clear picture of their smiling faces. How cool is that?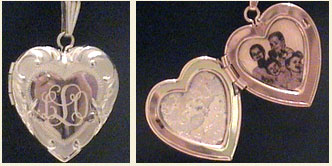 Now, I know you are uber jealous of my cool new locket. But fear not, you can order your own with nifty engravings and customizations. Just head over to Pictures on Gold and choose a locket, charm, ring, or anything on the site! You can upload your photos and choose your customizations right there and before you know it youll have a cool brand new just for you engraved piece of jewelry to capture a memory forever.
Brian and I are planning on getting another as a gift for his mom, either for Christmas or for her birthday next year. Id never make it in time for her birthday this year since its next week and I still need to find the right picture of his sister to use. Just to clarify, the shipping is fast, if I order today Ill probably get it on time, but I havent unpacked and organized our photos yet so I have no idea where the picture we want is in the box! We already picked this cameo angel locket in gold as the one to get, and well get a picture of his sister on one side and his youngest brother on the other side (they are no longer with us.) Its going to be a gorgeous gift and Im really excited that we found it.
There are so many options to choose from I need the extra time to decide too! I think for my mother in laws locket Ill get the color photo engraving, whereas on mine I went for the plain laser engraving. I want her images to be vivid and full of joy. Not that my photo selection for myself wasnt joyful, in fact it was too joyful and I was afraid it was too many colors and wouldnt look right so small, especially with Ethan and Noah wearing their Mickey ears.
Oh, I almost forgot I got a little soft polishing cloth with my locket as well so that I can keep it shiny and new looking. Now Ive just got to look for a chain while we are out doing our back to school shopping and Ill be all set! I need a new chain for my oval locket as well, and the oldest childling would like a necklace, so hopefully I can find a good deal!







---
Raegans Locket
I received a lovely personalized locket from Picturesongold.com that I had gotten for Raegan. I plan to put it up and give it to her when she is a little older. The personal touches on the locket really make it stand out. I had her initials monogrammed on the front of the locket and one of my favorite pictures etched in it.

Pictures on Gold took my digital photo and then using a process with a laser placed the photo inside the locket. It was also so challenging to find a small pictures to put into a locket. Isnt it amazing what technology can do?
I love how it turned out. It is simply gorgeous. Im so impressed with it that I have found a few other items from them that I am interested in purchasing in the future like a first Communion necklace. Personalized jewelry is a nice way to mark those special occasions in life. I hope this locket will always stand as a reminder of Raegan just how much she is loved, and she will always be our little girl.